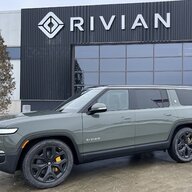 First Name

Bob
Joined

Feb 11, 2021
Threads
Messages
Reaction score

6,116
Location
Vehicles

Tesla Model S, Jeep Grand Cherokee, LE - R1S
Occupation

Retired
"Should'" and "can" may not be compatible here. If Rivian has the ability to make meaningful improvements to the vampire drain, wouldn't they have already done so sometime in the last 15 months since the R1T came out? The longer this goes on, the odds of it ever getting fixed are going down. And before apologists jump in and say Telsa's vampire drain used to be bad and they fixed it, that doesn't mean Rivian can or that it won't require a hardware update.

I don't expect Rivian will ever get to where my i3 and Tesla are when it comes to vampire drain nor do I think they will fundamentally address the issue. I doubt it's something they can fix in software. I'm expecting delivery in two weeks and I can deal with the drain if I end up on the lower end of what people are reporting. Unfortunately, there seems to be a significant range of drain rates reported by the community. I suspect the variation is due to a combination of user error and imprecise measurements rather than significant differences between vehicles (baring outliers like people who have faulty sensors.) If I end up with something extreme like 4kWh a day, I doubt I'll keep my R1T. I just don't think I can be happy with something so unnecessarily wasteful.
I'm in SoCal and I am just not seeing the high numbers people are reporting. I have not enabled Gear Guard, I do not plug in unless I am charging, the R1S is parked in a garage.
I am seeing usually 0 to 1 mile lost overnight (10-12 hours). The most I saw was 2 the night I took an OTA.
I will admit I do not check it every night and have not looked at battery percent but the numbers above are the many nights that I have made a conscious effort to check lost miles.