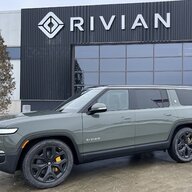 First Name

Bob
Joined

Feb 11, 2021
Threads
Messages
Reaction score

6,968
Location
Vehicles

Tesla Model S, Jeep Grand Cherokee, LE - R1S
Occupation

Retired
Ford has been doing delivery vans for almost a century. Farley isn't totally off base. The thing here is that Amazon didn't just commit to buying vans but became a major investor. Rivian has recently seen that the 10000 van committment has some downsides so they're looking to renegotiate the deal with Amazon. I haven't heard if there were any changes there.

The size of the vans could be an issue (they're huge) but I think the R2 Platform offers opportunities for smaller sized vans.

Anyways, opinions are like (you know what) everyone has one. That said, Farley does have a cousin that lived in a van down by the river. So maybe he knows a thing or two.
I think the EDV500 is a good size step in van for trades, pretty close to the Sprinter and the Ram vans. I think there will be a decent market for these outside of last mile deliveries.
What better way to get these designed and built is there than partnering with a deep pocket and a confirmed volume.
Not saying Farley does not know what he is talking about but sometimes people have a hard time understanding there are many possible ways to accomplish a goal.